About Blue Line Pressure Washing, LLC - Your Trusted Martinsburg Pressure Washer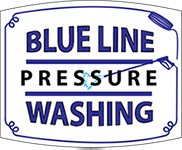 When you hear people talk about Blue Line Pressure Washing, LLC, you hear words like dedication, integrity, and professionalism. This is what we are all about, and it's why Blue Line Pressure Washing, LLC is the premier pressure washer in the Martinsburg area.
If you require pressure washing in Martinsburg, do yourself a favor and contact Blue Line Pressure Washing, LLC to secure the absolute best service in the business. We stand by our work, and owner Eddie Chrisman, who grew up in this area, guarantees he and his crew of experts "are dedicated to providing high-quality service with a customer-first mindset."
Quality Service You Can Count On--Blue Line Pressure Washing, LLC
We are a multi-dimensional pressure washing company, and we use only the most up-to-date equipment and pressure washing methods. And among our services are:
Driveway washing
Graffiti removal
Commercial pressure washing
So not only does Blue Line Pressure Washing, LLC cover the lower Shenandoah Valley, but we also offer a full slate of pressure washing services. This combination of mobility and flexibility is what will give you the peace of mind you seek as a customer--our most important commodity.
Blue Line Pressure Washing, LLC's team of experts abides by a strict code of ethics and professionalism. And owner Eddie Chrisman emphasizes this when he states, "We provide quality service with continuing education in the industry to make sure we use the most up-to-date and best practices for all the exterior cleaning services that we provide."
When you think of Blue Line Pressure Washing, LLC, you think of "a locally owned small business that is dedicated to providing the community with quality and dependable services at affordable rates."
Eddie Chrisman brings a wealth of experience to the pressure washing business, an ethical business philosophy, and 11 years in law enforcement. And having lived in the Martinsburg area all his life, Eddie knows the surrounding area and is a trusted name.
He and the Blue Line Pressure Washing, LLC team are ready to handle any of your pressure washing needs.

Recent Blog Articles
Scrub Away; Keep Mold At Bay

If you live in the Martinsburg area, you know all too well what humid air and warm temperatures do to white fences, white patio furniture, and white siding. If you don't pay close attention and pr […]

Safety On The Roof Is Mandatory, Not Optional

Once you decide to tackle the gutter-downspout job, it's important to keep safety in the front of your mind. Too often, we read of terrible accidents because someone cut some safety corner to complet […]
Contact Us Today
Schedule Your Quality Martinsburg Pressure Washing Services Today!