Finest Pressure Washing Company Serving Charles Town, WV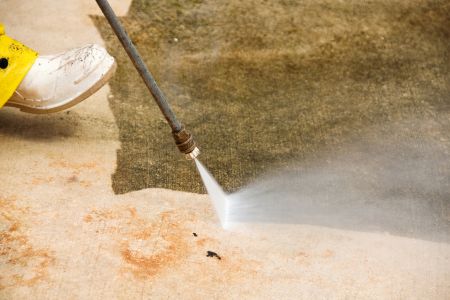 Do you need a pressure washer for your Charles Town home? Is it time to take care of your residence and restore the luster that was once there?
Pressure washing in Charles Town doesn't have to be stressful. Just the opposite. You can achieve this by contacting Blue Line Pressure Washing, LLC, and we will fulfill all your pressure washing needs.
From house washing to roof cleaning, driveway washing to graffiti removal, Blue Line Pressure Washing, LLC's broad range of offerings can be tailored to fit your requirements. Give your Charles Town home the care it deserves, and after you do, you will immediately notice the results.
Roof Cleaning In Charles Town Is An Absolute Necessity
Proper pressure washing techniques are used to rid your roof of dirt, algae, mold, and other contaminants that produce unsightly black streaks and could cause your shingles to age quicker than they should.
And if your roof is a little older, our professional pressure washing team will adjust the pressure and temperature to ensure the integrity of your roof remains intact.
We won't just clean the surface; we'll get between the cracks and into those annoying, pesky spaces where allergens and "crud" reside. This same approach will be applied to gutters and downspouts as well.
When It Comes To Driveway Washing In Charles Town, You Need The Absolute Best In The Business
It's easy to ignore cracks, weeds, and stains, but we can make sure these and other annoyances are eliminated. The Blue Line Pressure Washing, LLC experts know that driveway cleaning is an essential item on your overall home maintenance list.
So don't wait until the cracks are too wide, the weeds have taken over, and the stains have eaten away at the surface. Call us now; we will give your driveway the pressure washing care it needs.
Pressure washing is a thorough process best left to the pros. At Blue Line Pressure Washing, LLC, we pride ourselves on customer satisfaction. When we finish the job, you will notice the results right away:
Increased curb appeal
Reduction of unsightly mold and mildew
Increased property/resale value
Personal pride
While homeowners have a D-I-Y tendency when it comes to pressure washing, we recommend this be left to professionals like Blue Line Pressure Washing, LLC. We have the know-how, the equipment, and our guarantee.
So allow Blue Line Pressure Washing, LLC to show you what we do best -- pressure washing. We know the business and the Charles Town market. Don't delay; contact us today.
Latest Charles Town Pressure Washing Projects
Reviews & Testimonials on Blue Line Pressure Washing, LLC in Charles Town, WV
There are currently no reviews or testimonials, check back soon!

Recent Blog Articles
Scrub Away; Keep Mold At Bay

If you live in the Martinsburg area, you know all too well what humid air and warm temperatures do to white fences, white patio furniture, and white siding. If you don't pay close attention and pr […]

Safety On The Roof Is Mandatory, Not Optional

Once you decide to tackle the gutter-downspout job, it's important to keep safety in the front of your mind. Too often, we read of terrible accidents because someone cut some safety corner to complet […]
Contact Us Today
Schedule Your Quality Martinsburg Pressure Washing Services Today!