Driveway Washing Professionals Serving Clients In Martinsburg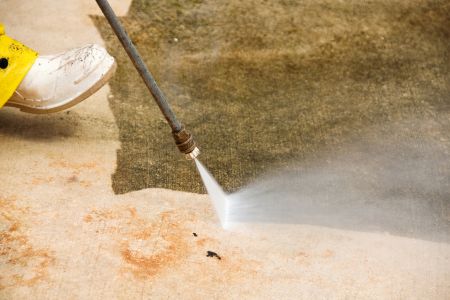 Sometimes when we, as homeowners, consider all that goes into house washing, we think only about the structures. Paved surfaces such as the driveway can be neglected when, in fact, they need to be a priority.
This is just one reason why you need to schedule a driveway washing for your Martinsburg-area home.
Additionally, while oil and fuel stains are easily noticeable, other hazards are more difficult to spot. Weeds beneath the paved surface can push their way through cracks, making a small crack a bigger problem. Driveway washing will also:
Eliminate allergens that stick to the paved surface.
Increase the longevity of the driveway itself.
Immediately increase your curb appeal.
Prevent accidents that come with deterioration.
Your driveway also is subject to equipment scratches and gouges, as well as tire marks from constant use. Our pressure washing system is designed to thoroughly remove dirt and gravel so you can enjoy a risk-free surface where kids ride bikes and engage in other outdoor activities.
Pressure washing in Martinsburg is what we do, and we are proud to put our expertise to work by restoring a fresh, clean look to the entryway to your home.
Concrete Cleaning Is Another Service We're Proud To Offer
Concrete cleaning in Martinsburg is made easy with the services offered by Blue Line Pressure Washing, LLC. When you decide to hire a concrete cleaning company, you can rest assured that our treatment plan will meet your every expectation.
Concrete washing has several notable benefits, including:
Removal of oil and grease stains
Elimination of moss, weeds, and other unwanted growths
Eradication of unwanted rust marks.
Prevention of dangerous frost heaves.
There's no reason to delay when considering which pressure washing outfit to hire: Blue Line Pressure Washing, LLC is standing by to wash away your worries.
Pavement Pressure Washing Is A MUST For Your Home
Sidewalks, pavers, curbing, and driveways are the prime paved surfaces that surround your home. They are subject to the pounding of rainstorms, snowstorms, and extreme temperatures. And over time, their appeal may fade if they aren't properly maintained.
Take the time to make them shine as they once did. Call Blue Line Pressure Washing, LLC today!

Recent Blog Articles
Scrub Away; Keep Mold At Bay

If you live in the Martinsburg area, you know all too well what humid air and warm temperatures do to white fences, white patio furniture, and white siding. If you don't pay close attention and pr […]

Safety On The Roof Is Mandatory, Not Optional

Once you decide to tackle the gutter-downspout job, it's important to keep safety in the front of your mind. Too often, we read of terrible accidents because someone cut some safety corner to complet […]
Contact Us Today
Schedule Your Quality Martinsburg Pressure Washing Services Today!