Ranson's Leading Pressure Washing Services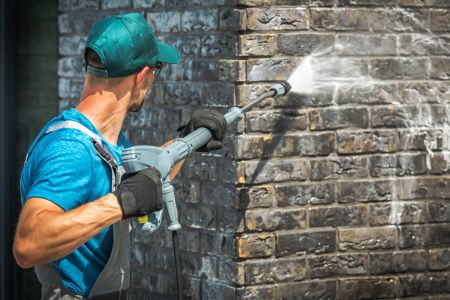 In and around Ranson, WV, beautiful homes abound. Yours likely is one of them.
Maintain that look with annual or semi-annual pressure washing treatments. And when that time comes, look no further than Blue Line Pressure Washing, LLC -- the premier pressure washing company in the Ranson area.
Because this region sees so much moisture, whether in the form of humidity, rain, or snow, you must keep your roof clear of contaminants, your gutters and downspouts flowing freely, and your siding and windows free of mold and mildew streaks that can become problematic if not treated regularly.
Ranson Homes Require Regular Roof Cleaning
Many contaminants are readily visible, such as mold, moss, and tree pitch. It's easy to write these off as common elements that impact your roof. But over time, along with weather, bird droppings, and tree branches, your roof takes a beating.
By scheduling roof cleaning with Blue Line Pressure Washing, LLC, you are ensuring the roof that protects you will be solid and sturdy for years to come. We care about your roof as much as you do and have the experts standing ready to blast away those contaminants and allergens that lurk between the cracks and reside in those tough-to-get-to nooks of your roof.
In Ranson, We Offer A Complete Menu Of Pressure Washing Options
Pressure washing encompasses quite a bit. Traditionally it means expelling a high-pressure stream of water through the nozzle of a pressure washing mechanism. When it comes to driveway washing, however, sometimes we need to turn down the pressure and add detergents to the mix.
Blue Line Pressure Washing, LLC uses only eco-friendly anti-contaminants while conducting driveway washing, as well as concrete cleaning. From your home to your business, or your driveway to your parking lot, professional pressure washing by Blue Line Pressure Washing, LLC is your best bet.
The benefits of hiring a professional company like Blue Line Pressure Washing, LLC to handle your driveway washing needs include:
Elimination of unsafe D-I-Y practices.
Increased curb appeal and resale value.
Restoration of high-profile aesthetics.
Improved footing in high-traffic areas.
Whether you hire us to perform house washing or concrete cleaning or any of the other services we provide, rest assured we will live up to the expectations of owner Eddie Chrisman, who says: "Rather than overbooking ourselves and rushing through to get all the daily jobs done, we slow down a bit and make sure that we don't miss a single spot. And if by chance we do miss a spot. We make it right."
Latest Ranson Pressure Washing Projects
Reviews & Testimonials on Blue Line Pressure Washing, LLC in Ranson, WV
There are currently no reviews or testimonials, check back soon!

Recent Blog Articles
Scrub Away; Keep Mold At Bay

If you live in the Martinsburg area, you know all too well what humid air and warm temperatures do to white fences, white patio furniture, and white siding. If you don't pay close attention and pr […]

Safety On The Roof Is Mandatory, Not Optional

Once you decide to tackle the gutter-downspout job, it's important to keep safety in the front of your mind. Too often, we read of terrible accidents because someone cut some safety corner to complet […]
Contact Us Today
Schedule Your Quality Martinsburg Pressure Washing Services Today!