Window Cleaning For Sparkling Clean Exterior Glass In Martinsburg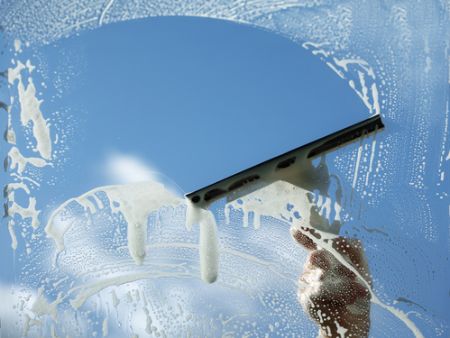 Brighten your outlook from your Martinsburg home with excellent window cleaning services from Blue Line Pressure Washing, LLC! No need to look for a separate window cleaning contractor when you've got the top team in pressure washing for Martinsburg at your service. We are proud to offer cleaning options for all home exteriors, including your windows. Our technicians will have your glass gleaming in no time.
We want to help your home soak up the sun a little easier this year. If you'd like us to take care of your home's exterior windows, contact us and ask for a free estimate for our window cleaning service. We'll be glad to help you as soon as possible!
Professional Window Washer
Window cleaning is no easy feat, especially when it comes to your exterior windows. Scrubbing is time-consuming and can leave smears, but simply hosing your windows down often isn't enough, especially if they've got a lot of grimy buildup or mineral deposits.
The solution is somewhere in the middle. Our technicians use soft washing to clean your windows. This soft washing is a bit more forceful than your garden hose, but it still operates at a low PSI that won't put excess pressure on your glass. It's so safe we can even clean your screens with it! Our window cleaning also uses high-quality detergents that cut through grime and break down hard deposits, making it easier for us to eliminate buildup on your windows. Once we've thoroughly eliminated every trace of mess on the glass, we rinse the area down with pure water and squeegee the moisture away to reveal a spotless clean!
This soft washing technique is also how we're able to get your sidings safely clean when you book a house washing. Many homeowners choose to pair our house washing and window cleaning services together, and it makes sense why- the combined effect of freshly cleaned sidings and glittering glass is a one-two punch up for your curb appeal. If you're interested, give us a call today and find out the cost estimate for pairing our house washing and window cleaning for your home!
Commercial Window Cleaning
Window cleaning is a popular service with many of our commercial clients, particularly with those who operate out of storefronts. With limited surface area to work with, the windows are the biggest focal point of your business's facade. Keeping them clean makes your storefront bright and enticing to curious potential customers. If you're interested in having your storefront cleaned, or if you operate a standalone business and need window cleaning, give us a call. We'd be glad to draw up a free estimate for you right away.

Recent Blog Articles
Why You Should Have Your Home Softwashed by Blue Line Pressure Washing LLC

Maintaining your home's exterior can be a daunting task, especially if you have stubborn stains and dirt buildup that won't go away with regular cleaning. This is where Blue Line Pressure Washing LLC can help with our highly effective and safe method for cleaning the exterior […]

Scrub Away; Keep Mold At Bay

If you live in the Martinsburg area, you know all too well what humid air and warm temperatures do to white fences, white patio furniture, and white siding. If you don't pay close attention and pressure wash these marquee features of your property, over time, they will […]
Contact Us Today
Schedule Your Quality Martinsburg Pressure Washing Services Today!