Blue Line Pressure Washing, LLC: Martinsburg's Finest Pressure Washing Service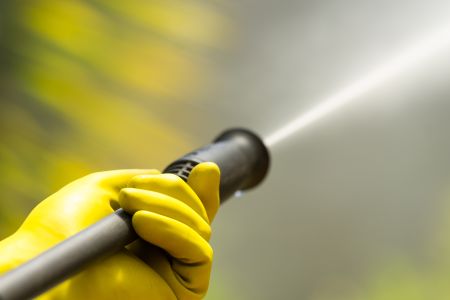 There always seems to be something to do when it comes to owning a home. And your Martinsburg home deserves a quality treatment from Blue Line Pressure Washing, LLC -- your premier pressure washing service.
Years of inclement weather, extreme temperatures, and normal wear and tear can negatively impact the look of your Martinsburg home's exterior. Before you realize it, the time has passed, and the improvements you need can be overwhelming.
Don't despair; call on the pressure washing professionals at Blue Line Pressure Washing, LLC to relieve your stress. We provide the following:
Noticeable results immediately.
Options for driveway washing.
Relief of your home maintenance stress.
The personal touch homeowners deserve.
Blue Line Pressure Washing, LLC represents the highest standard of expectation of the pressure washing business. We have been in the pressure washing business a long time, and we are ready to serve Martinsburg homeowners.
Trust Your Martinsburg Home To The Roof Cleaning To The Experts: Blue Line Pressure Washing, LLC
Regardless of the material your roof is made of, it requires monitoring and timely maintenance. At least once a year, it's important to rid your roof of allergens, contaminants, and other substances that wear on your roof over time.
Our roof washing methods will leave the roof looking like it once did. We will wash away existing dirt and grime and prevent unwanted contaminants from coming back.
Whether your roof is made of traditional shingles, ceramic shingles, wood, or steel, our team will leave your roof sparkling. That's our promise to you.
Driveway Washing In Martinsburg Has Never Been Easier Than Contacting Blue Line Pressure Washing, LLC
Pressure washing the exterior of your Martinsburg home involves more than meets the eye. Water pressure and temperature must be adjusted, and the condition of the surfaces being treated also must be considered.
Your driveway is one such surface. This high-traffic area needs constant attention, especially since oil and grease stains can be present where children play year-round.
Blue Line Pressure Washing, LLC has the means necessary to remove contaminants that can eliminate a potential safety problem. Driveway cleaning also will prevent the corrosive breakdown of asphalt or concrete.
Latest Projects in Martinsburg
Reviews & Testimonials on Blue Line Pressure Washing, LLC in Martinsburg, WV
There are currently no reviews or testimonials, check back soon!

Recent Blog Articles
Scrub Away; Keep Mold At Bay

If you live in the Martinsburg area, you know all too well what humid air and warm temperatures do to white fences, white patio furniture, and white siding. If you don't pay close attention and pr […]

Safety On The Roof Is Mandatory, Not Optional

Once you decide to tackle the gutter-downspout job, it's important to keep safety in the front of your mind. Too often, we read of terrible accidents because someone cut some safety corner to complet […]
Contact Us Today
Schedule Your Quality Martinsburg Pressure Washing Services Today!