Complete Oxidation Removal For Your Martinsburg Property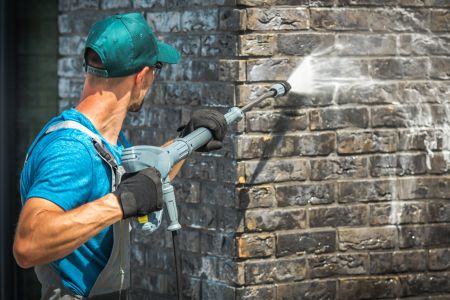 Over time, the oxidation process can cause unwanted blemishes on the exterior of your house. So oxidation removal from the outside of your Martinsburg home becomes an absolute necessity.
Oxidation is the process by which an electron is removed from a molecule during a chemical reaction. The result is a blotch or series of corrosive blotches that causes paint to peel and colors to fade, among other things.
Pressure washing in Martinsburg is performed by Blue Line Pressure Washing, LLC, and oxidation removal is just one of our services. Aluminum and vinyl siding and painted surfaces are subject to temperature ranges, precipitation, and the constant beating of the sun, so oxidation removal becomes necessary.
While some homeowners will choose the DIY route, others will contact a professional pressure washing company. By bringing in Blue Line Pressure Washing, LLC, you are ensuring the oxidation removal process will include the following:
The most eco-friendly practices are employed.
The surface being treated will not be harmed.
The service will be prompt and effective.
The like-new look will be restored.
Vinyl Siding Oxidation Cleaning
Vinyl siding is arguably the most popular and cost-effective material currently being used on the exterior of homes. Homeowners tend to favor this material because it is relatively easy to maintain and is durable despite harsh weather conditions.
But oxidation can and likely will become a factor over time. If left untreated, the impact of oxidation will cause the vinyl to break down as corrosion and stains become readily visible.
Blue Line Pressure Washing, LLC has the means and the expertise to perform oxidation removal. Depending on the oxidation level, we will continue to adjust the pressure and temperature to remove existing oxidation and prevent further oxidation from making a speedy return.
Oxidation removal is one of several house washing and pressure washing services we provide. It's also important if thinking about oxidation removal, to consider the following pressure washing options:
Roof and gutter cleaning
Driveway and concrete washing
Trash bin cleaning
Commercial pressure washing
Don't let the oxidation process become so problematic that stains, color fading, and corrosion take hold. Call Martinsburg's premier pressure washer, Blue Line Pressure Washing, LLC, and we'll ensure this problem is effectively treated and eliminated.

Recent Blog Articles
Scrub Away; Keep Mold At Bay

If you live in the Martinsburg area, you know all too well what humid air and warm temperatures do to white fences, white patio furniture, and white siding. If you don't pay close attention and pr […]

Safety On The Roof Is Mandatory, Not Optional

Once you decide to tackle the gutter-downspout job, it's important to keep safety in the front of your mind. Too often, we read of terrible accidents because someone cut some safety corner to complet […]
Contact Us Today
Schedule Your Quality Martinsburg Pressure Washing Services Today!