Professional Pressure Washing Company in Harpers Ferry, WV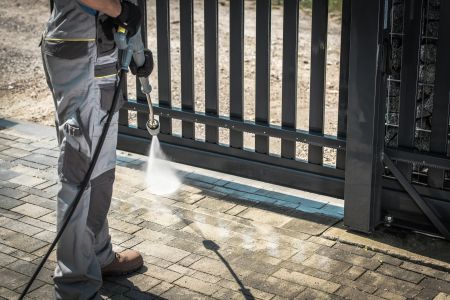 While on the surface, engaging in a do-it-yourself project appears to save time and money, in the end, it's probably better to let the professionals handle it. Blue Line Pressure Washing, LLC is the top-notch pressure washing company in Harpers Ferry, and we are ready to do the work for you.
We use the most up-to-date equipment and methods to deliver the best house washing treatments available in the Harpers Ferry area. Your home is important to you, and it is important to us as well.
What can you expect from us?
Prompt and professional service
We guarantee you'll be satisfied
A great-looking final result
Increased value of your home
Not all pressure washing companies can deliver what Blue Line Pressure Washing, LLC can. We are the premier pressure washers in Harpers Ferry. Give us a call today, and we'll deliver on our promise of excellent service at an affordable price.
Is Your Harpers Ferry Home Due For Roof Cleaning? Chances Are It Is
How do you know if your roof and gutters need to be cleaned? Well, it's pretty easy to tell. If you're experiencing gutter overflow when it rains, or the downspouts aren't diverting water properly, it's well past time.
Leaves, twigs, and sludge find their way into gutters and downspouts, and just as dangerous are not-so-visible contaminants such as pollen and various microorganisms. Proper roof and gutter cleaning by a professional company like Blue Line Pressure Washing, LLC will remove these hazardous and unwanted blemishes.
Homeowners in Harpers Ferry: We Have The Perfect Driveway Washing Solution For You
When you hire Blue Line Pressure Washing, LLC to complete your driveway washing needs, we will devise a treatment plan suited to your exact specifications. Whether your driveway is older and in need of many areas to be treated, or it's newer and requires more routine maintenance, our team of professionals will do what is necessary to achieve the results you desire.
Oil and grease stains won't be visible once we're through, and you can rest assured this high-traffic area will be safe for kids to ride their bikes or play basketball.
We are standing by to perform whatever pressure washing task you need. From driveway washing to various cleaning services, our slate of offerings is unique and complete.
Reviews & Testimonials on Blue Line Pressure Washing, LLC in Harpers Ferry, WV
There are currently no reviews or testimonials, check back soon!

Recent Blog Articles
Scrub Away; Keep Mold At Bay

If you live in the Martinsburg area, you know all too well what humid air and warm temperatures do to white fences, white patio furniture, and white siding. If you don't pay close attention and pr […]

Safety On The Roof Is Mandatory, Not Optional

Once you decide to tackle the gutter-downspout job, it's important to keep safety in the front of your mind. Too often, we read of terrible accidents because someone cut some safety corner to complet […]
Contact Us Today
Schedule Your Quality Martinsburg Pressure Washing Services Today!