Go-To Falling Waters Pressure Washing Service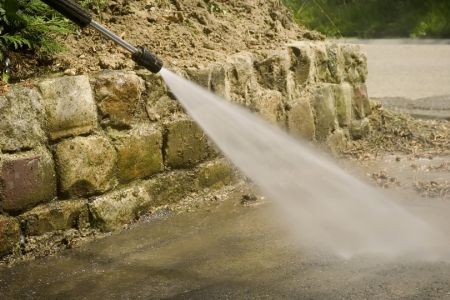 When it comes time to pressure wash your Falling Waters home, consider all factors. The material the siding is made of. The roofing. The windows. And the window frames.
If you are a bit overwhelmed, don't despair. Turn to Blue Line Pressure Washing, LLC, and we will handle all the pressure washing needs of your Falling Waters home.
From the roof to the foundation, we will get the dust and dirt out of trouble spots and restore the best possible look of the exterior of your Falling Waters property. And if you have other pressure washing needs, remember that Blue Line Pressure Washing, LLC also offers other services such as:
Roof cleaning, regardless of the material
Driveway washing, asphalt, or concrete
Trash bin and garbage can scrubbing
Graffiti and oxidation removal.
Looking For Someone To Handle Roof Cleaning For You? Let The Professionals Do The Work
Mold and mildew aren't the only contaminants that can create a less-than-desirable look on the roof of your Falling Waters home. Tree sap, bird droppings, leaves, and branches also can do a number on your roof.
So it's important to keep your roof free of anything that will make it age quicker. Blue Line Pressure Washing, LLC can do the job for you and will remove these contaminants and restore that like-new look you so desire.
We use a high-pressure system to remove contaminants that find their way into corners and crevices. Removing these hazards is the key to preserving the life of your shingles or any roofing materials.
Homeowners In Falling Waters Can Benefit From Driveway Washing
There always seems to be something to do when you own a home. The elements pound the property, and then there are the accidents that happen, like a DIY-oil change gone wrong or the lawnmower gasoline spill on asphalt.
Blue Line Pressure Washing, LLC's top-notch team will come to your Falling Waters home and pressure wash your driveway, thus removing these potential hazards. And if the job requires the use of detergents, we only use eco-friendly products.
Driveway washing is a specific pressure washing job, which we will tailor to the needs of your Falling Waters driveway property. Your curb appeal will go up while your stress level goes down.
Reviews & Testimonials on Blue Line Pressure Washing, LLC in Falling Waters, WV
There are currently no reviews or testimonials, check back soon!

Recent Blog Articles
Scrub Away; Keep Mold At Bay

If you live in the Martinsburg area, you know all too well what humid air and warm temperatures do to white fences, white patio furniture, and white siding. If you don't pay close attention and pr […]

Safety On The Roof Is Mandatory, Not Optional

Once you decide to tackle the gutter-downspout job, it's important to keep safety in the front of your mind. Too often, we read of terrible accidents because someone cut some safety corner to complet […]
Contact Us Today
Schedule Your Quality Martinsburg Pressure Washing Services Today!