Commercial Pressure Washing In Martinsburg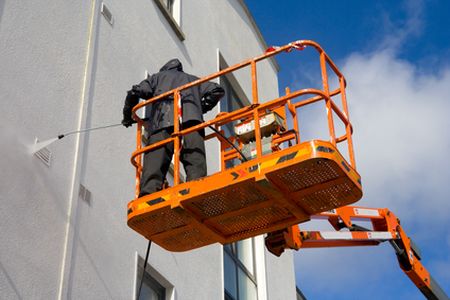 You spend hours at your place of business. It's your livelihood and an extension of who you are.
Let the pressure washing professionals do what they do best - schedule a commercial pressure washing treatment for your Martinsburg commercial property.
Blue Line Pressure Washing, LLC offers a complete menu of commercial property treatment options for pressure washing in the Martinsburg area. And when you call for an estimate, here's what you can expect:
Prompt and professional response
Fair and competitive bid
The latest and best treatment methods
Our personal guarantee
Commercial pressure washing involves many of the same considerations as residential pressure washing. The only difference is that this is your place of business, or perhaps you own an apartment complex or lease office space.
Regardless, these structures and their surrounding grounds should receive the same care and attention as your home. The curb appeal of a business sets the tone when clients first arrive. This could mean window washing or driveway washing as well.
Give your customers a taste of what they can expect once they enter your place of business by augmenting the outdoor aesthetics of your commercial property. First impressions are everything, and Blue Line Pressure Washing, LLC stands ready to make this happen for you.
Business Property Exterior Cleaning
Our Martinsburg company understands your needs as a business owner. We are ready to provide you with the Blue Line Pressure Washing, LLC solution your business requires.
Our team of professionals guarantees their work and looks forward to providing you with years of continued quality service. You and your commercial property deserve this kind of attention, and Blue Line Pressure Washing, LLC is ready to deliver on this guarantee.
And if you're a property owner who rents apartments or condos, or you lease out space in a building or a series of buildings you own, consider contracting with Blue Line Pressure Washing, LLC to handle any and all of your commercial property pressure washing needs.
We can turn up the pressure to wash away unwanted stains in your parking lot and sidewalk or turn down the pressure for windows and sensitive spots. Regardless, we will meet your demands. That's our solution to your commercial pressure washing expectations.

Recent Blog Articles
Scrub Away; Keep Mold At Bay

If you live in the Martinsburg area, you know all too well what humid air and warm temperatures do to white fences, white patio furniture, and white siding. If you don't pay close attention and pr […]

Safety On The Roof Is Mandatory, Not Optional

Once you decide to tackle the gutter-downspout job, it's important to keep safety in the front of your mind. Too often, we read of terrible accidents because someone cut some safety corner to complet […]
Contact Us Today
Schedule Your Quality Martinsburg Pressure Washing Services Today!