Bunker Hill Pressure Washing Services You Can Depend On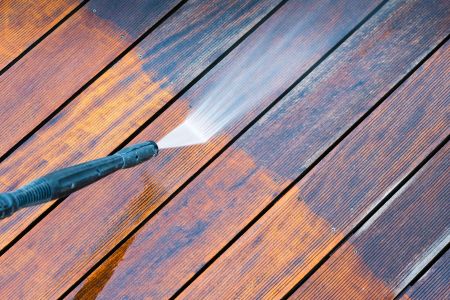 When you consider all that goes into home maintenance, house washing and driveway cleaning might not be at the top of every homeowner's list. But they should be.
The premier Bunker Hill, WV, pressure washing team is Blue Line Pressure Washing, LLC. We bring a wealth of experience to the pressure washing business and perform varied treatments, including:
Roof cleaning.
Driveway washing
Oxidation removal.
Naturally, we perform all these tasks, and traditional house washing is another one of our top-rated services. We can help you complete some items on your home improvement/home maintenance list by cleaning the exterior of your home and giving you a sense of pride when we're finished.
Pressure washing your Bunker Hill home is one of the keys to prolonging the life of the materials used on your roof, siding, and windows. And with high heat and humidity, along with tree pitch and other annoying factors that negatively impact the look of your home, your exterior is likely due for treatment.
It's Time To Clean Your Roof And Gutters
Roof care involves much more than keeping the gutters and drains clear of debris. Pressure washing removes contaminants that not only find their way onto the surface of your roof but likely will lurk between small spaces between traditional and ceramic shingles.
Tree pitch is sticky and sometimes very difficult to remove. And if left untreated, it can become a problem. Trimming tree branches will help, but the best course of treatment to remove existing pitch spots is pressure washing.
Don't Delay. Schedule Driveway Washing Today
Driveway cleaning is an essential item on your Bunker Hill residence maintenance list, so why not let Blue Line Pressure Washing, LLC handle this important project for you?
Driveway washing can be challenging -- annoying oil and rust stains create eyesores, and pesky weeds push their way through the cracks.
Our Bunker Hill pressure washing team can blast away dirt, grime, allergens, oil stains, and more by delivering the best driveway washing service around.
We are ready to clean your driveway, and when we're done, you'll see how it:
Enhances curb appeal
Eliminates loose dirt, pebbles, and gravel
Re-stores a newer look
Increases longevity and safety
Reviews & Testimonials on Blue Line Pressure Washing, LLC in Bunker Hill, WV
There are currently no reviews or testimonials, check back soon!

Recent Blog Articles
Scrub Away; Keep Mold At Bay

If you live in the Martinsburg area, you know all too well what humid air and warm temperatures do to white fences, white patio furniture, and white siding. If you don't pay close attention and pr […]

Safety On The Roof Is Mandatory, Not Optional

Once you decide to tackle the gutter-downspout job, it's important to keep safety in the front of your mind. Too often, we read of terrible accidents because someone cut some safety corner to complet […]
Contact Us Today
Schedule Your Quality Martinsburg Pressure Washing Services Today!