Blue Line Pressure Washing, LLC: Clearbrook's Premier In Pressure Washing Services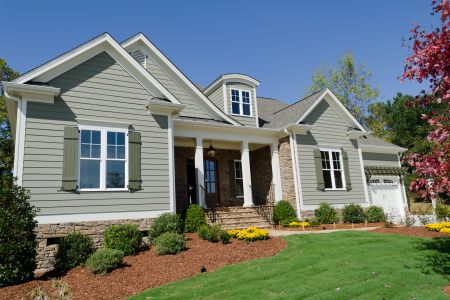 Blue Line Pressure Washing, LLC has been providing Clearbrook residents, commercial property owners, and business owners with top-quality pressure washing services ever since we opened our doors several years ago. Our firefighter-owned and operated business know the importance of helping out the community, which is why we've shaped our entire business model around helping our clients with their property maintenance needs.
When you work with us, you know you're getting some of the best services in Clearbrook. We don't just give 100% satisfaction; we go above and beyond to make sure you're 120% satisfied. We don't consider our work done until we see you smiling, and if there are ever any issues (which we doubt there will be), we'll do everything in our power to provide a solution.
List of Pressure Washing Services for Clearbrook Residents
We offer a wide array of pressure washing services to Clearbrook home and commercial property owners. Here are just a couple:
Wood Restoration And Staining: We're proud to be able to offer some of the finest wood restoration and staining services in the area. Wood features are a stunning upgrade that adds beauty and value to any home, as long as it's well-maintained, and we'll help make that possible.
Roof cleaning: Consider Blue Line Pressure Washing, LLC when it comes time to perform a roof cleaning treatment on your Martinsburg home. Our team will create a roof cleaning approach specific to your needs.
House washing: We can even clean your entire home's exterior from top to bottom, washing your windows, doors, siding, and more.
Trash bin cleaning: Over time, the interior of a trash bin will likely be strewn with the remnants of garbage, kitchen waste, and other household products. The exterior also could become stained and streaked. And then there's the smell.
These are only a few of our services available to Clearbrook clients. If you'd like to learn more about what we offer, contact us today.
Driveway Cleaning Services for Clearbrook Homeowners
Is your driveway being overrun by all sorts of growths like weeds and moss? Or is it currently covered in oil stains and tire marks? Leaving your driveway uncleaned can not only impact your home's curb appeal, but it can also cause it to deteriorate quickly. That's why it's so important to hire a reliable driveway cleaning service for regular pressure washings.
One of Blue Line Pressure Washing, LLC's specialty areas is home and commercial driveway cleaning. We use our commercial-grade equipment and in-depth pressure washing knowledge to properly wash your driveway's surface and ensure that it looks as good as new.
Reviews & Testimonials on Blue Line Pressure Washing, LLC in Clearbrook, VA
There are currently no reviews or testimonials, check back soon!

Recent Blog Articles
Scrub Away; Keep Mold At Bay

If you live in the Martinsburg area, you know all too well what humid air and warm temperatures do to white fences, white patio furniture, and white siding. If you don't pay close attention and pr […]

Safety On The Roof Is Mandatory, Not Optional

Once you decide to tackle the gutter-downspout job, it's important to keep safety in the front of your mind. Too often, we read of terrible accidents because someone cut some safety corner to complet […]
Contact Us Today
Schedule Your Quality Martinsburg Pressure Washing Services Today!