Winchester's Leader in Pressure Washing Services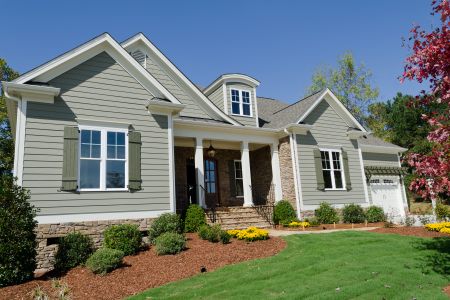 For years, Winchester home and commercial property owners have relied on Blue Line Pressure Washing, LLC for all their pressure washing needs.
We've been able to provide such exemplary services thanks to our use of the best-in-class equipment and our commitment to exceptional customer service. Blue Line Pressure Washing, LLC has modeled its core business model around ensuring customers are satisfied. No job is too big or too small for us, and we work tirelessly to find a solution to any pressure washing issues you may have.
To learn more about our pressure washing services, continue reading below.
Extensive Pressure Washing Services in Winchester, VA
Blue Line Pressure Washing, LLC specializes in a variety of services for homeowners, commercial property owners, and business owners around the greater Winchester region. Here are only a few of the services we provide:
Roof cleaning: Consider Blue Line Pressure Washing, LLC when it comes time to perform a roof cleaning treatment on your Martinsburg home. Our team will create a roof cleaning approach specific to your needs.
Wood Restoration And Staining: We're proud to be able to offer some of the finest wood restoration and staining services in the area. Wood features are a stunning upgrade that adds beauty and value to any home, as long as it's well-maintained, and we'll help make that possible.
House washing: You can hire us to wash your entire home's exterior from top to bottom, cleaning every corner and visible surface.
Trash bin cleaning: Over time, the interior of a trash bin will likely be strewn with the remnants of garbage, kitchen waste, and other household products. The exterior also could become stained and streaked. And then there's the smell.
If you'd like to learn more about the services we offer, give us a call.
Turn to Blue Line Pressure Washing, LLC for Your Driveway Cleaning Needs
One of our most popular pressure washing services is home and commercial driveway cleaning. Your driveway goes through standard wear over the years, and it's normal for it to eventually be covered in oil stains, weeds, tire marks, and more. Rather than going down this route, you can avoid the headaches and hire Blue Line Pressure Washing, LLC to come to the rescue.
We'll use our vast knowledge and experience, carefully planned washing strategy, and top-of-the-line equipment to thoroughly wash every inch of your driveway. After we're done, you'll stand back and marvel at the amazing results. We guarantee that you'll never want to work with another pressure washing service after you've seen the work we do at Blue Line Pressure Washing, LLC.
Reviews & Testimonials on Blue Line Pressure Washing, LLC in Winchester, VA
There are currently no reviews or testimonials, check back soon!

Recent Blog Articles
Scrub Away; Keep Mold At Bay

If you live in the Martinsburg area, you know all too well what humid air and warm temperatures do to white fences, white patio furniture, and white siding. If you don't pay close attention and pr […]

Safety On The Roof Is Mandatory, Not Optional

Once you decide to tackle the gutter-downspout job, it's important to keep safety in the front of your mind. Too often, we read of terrible accidents because someone cut some safety corner to complet […]
Contact Us Today
Schedule Your Quality Martinsburg Pressure Washing Services Today!