Blue Line Pressure Washing, LLC: Winchester's Finest Pressure Washing Service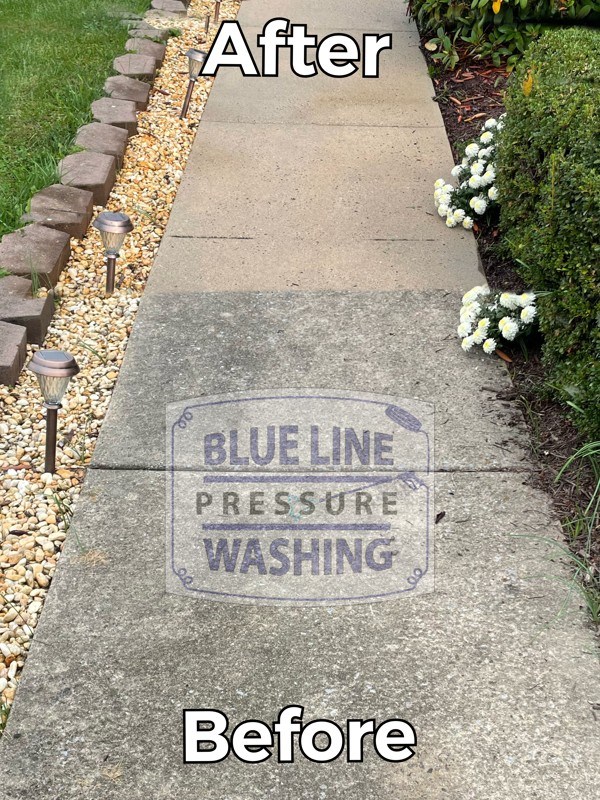 Don't hesitate to get in touch with Blue Line Pressure Washing, LLC, for outstanding pressure washing service in Winchester and beyond. We've worked hard to establish our reputation as a top-notch exterior surface cleaning company, and our customer base is loyal. Our dedication to quality care is how our name has become synonymous with industry superiority.
You don't have to take our word for it; let us show you in person. We'll provide you with the highest level of service, and you'll see that our pressure washing is second to none.
For the best care in Winchester, give us a call today. It can start as simply as calling us to request your free quote. We are eager to help you get on track with routine exterior cleaning, so your residential and commercial property is always in tip-top condition.
Winchester Residents Prefer Our Roof Cleaning
There are plenty of options in the Winchester area for power washing, but not as many for roof cleaning. And there are even more reasons to choose us for jobs that require greater care, like roof washing. Too many companies still use a blanket approach to outdoor surface cleaning, which means they use the same tactics for all cleaning work.
Do you really want to work with a company that treats your delicate asphalt shingles the same way they treat your concrete sidewalks? Hopefully, you realize that's not a good idea and make a conscious effort to contact us for projects that need soft washing instead.
We use soft washing to ensure that your roof gets clean without the risk of damage. Standard pressure washing can cause issues such as:
Water intrusion
Mildew, mold, and rot
Torn shingles
Missing granules
Leaks and holes
Skilled Pressure Washing Experts In Winchester
Put your faith in Blue Line Pressure Washing, LLC, and you'll have access to the best exterior cleaning company around. We offer a full range of residential and commercial pressure washing services, including but not limited to:
Trash Bin Cleaning
House Washing
Wood Restoration and Staining
Oxidation Removal
Commercial Pressure Washing
For premium service from a company that cares, call us in Winchester to schedule your pressure washing appointment.
Reviews & Testimonials on Blue Line Pressure Washing, LLC in Winchester, WV
There are currently no reviews or testimonials, check back soon!

Recent Blog Articles
Scrub Away; Keep Mold At Bay

If you live in the Martinsburg area, you know all too well what humid air and warm temperatures do to white fences, white patio furniture, and white siding. If you don't pay close attention and pr […]

Safety On The Roof Is Mandatory, Not Optional

Once you decide to tackle the gutter-downspout job, it's important to keep safety in the front of your mind. Too often, we read of terrible accidents because someone cut some safety corner to complet […]
Contact Us Today
Schedule Your Quality Martinsburg Pressure Washing Services Today!